Reference :
CRE - L012514
Land Size
16 RAI and 221 SQ.W.
Videos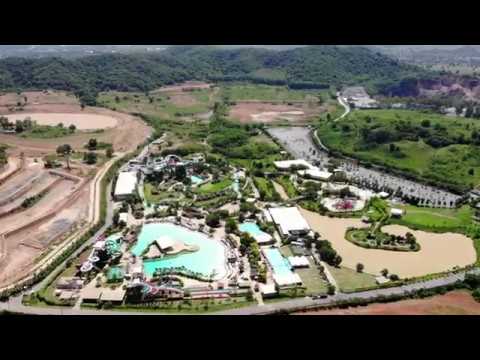 Additional Information and Features
Large plot of land for sale next to Ramayana Water Park in Baan Amphur.
This 16+ rai plot of land is located next to Asia's #1 water park.
Ramayana Water Park receives over 400,000 visitors per year making this a unique opportunity for investment.
It is an excellent location for a hotel/convention center or a shopping/dining/entertainment complex. It could also be developed as a luxury housing estate. Please feel free to contact us to discuss the zoning details of the plot.
The area is experiencing a lot of growth and with the opening of the new motorway and the planned development of the high speed train to Bangkok the appeal of the area will only rise.
Infrastructure
The site currently has 2 deep wells with a capacity of 30+ cubic meters of water per hour and there is an electric line in close proximity to the park making it easy to run power to the plot.
It is accessible via 2 public roads and the owners of the water park will be happy to discuss a separate entrance to the water park if desired providing easy access to the park for hotel guests or residents.
Nearby
Some of the area's biggest attractions are only minutes away from the site including:
Khao Chi Chan, the biggest carved Buddha image in the world which receives over 5,000 visitors per day.
Silverlake Vineyard, another of Pattaya's popular attractions. It is a great place to spend an afternoon or enjoy one of the many events.
If you're a golfer you are only minutes away from the Chee Chan Golf Resort, one of the area's newest and premium links-style course. The resort offers golfers the chance to play on one of the most beautiful modern courses in Asia.
The location is also only a short drive to some of the best beaches in the area and there are many fine and casual restaurants providing both Thai and European cuisine and some of the freshest seafood you will find.
Access to Sukhumvit Road and Highway 331 is a breeze making Bangkok or Rayong closer than ever and the increased development of Utapao Airport means access to the area by international visitors will only increase.
Don't miss this excellent investment opportunity.
Views
Nearby
Other listings in this Development
CRE - L014135
Sale: 4,450,000 THB
15,344.83 THB per SQ.W.
CRE - CM014082
Sale: 300,000,000 THB
CRE - L014061
Sale: 6,500,000 THB
15,776.70 THB per SQ.W.